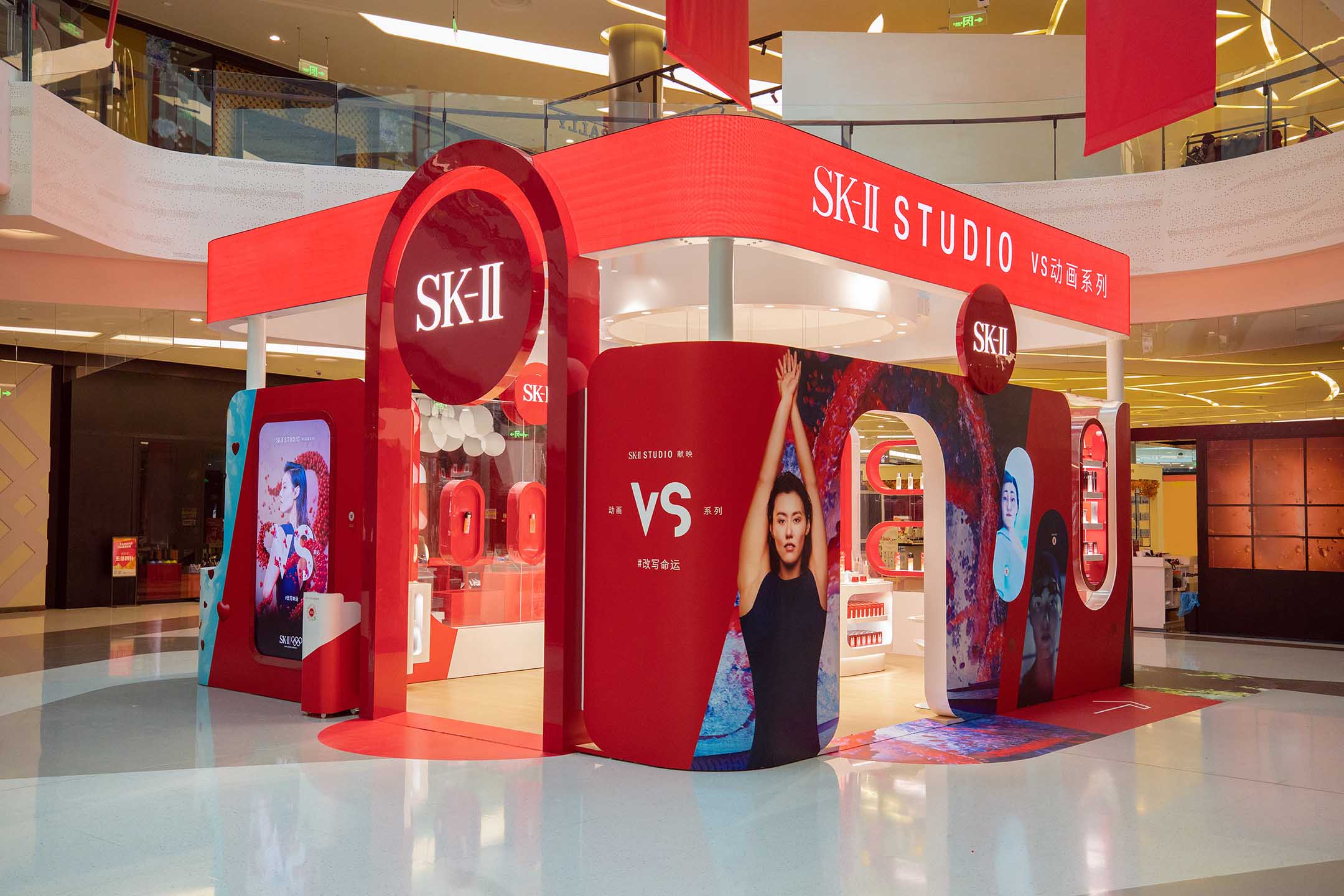 Changing the Rules of Retail
What can shoppers expect as they return to stores after a year of unprecedented disruption? Global skincare brand SK-II is blending latest technology and meaningful content to create safe and engaging retail experiences for today's tech-savvy shoppers.
---
Technology has put the world at our fingertips. Smartphones, tablets, and laptops have become integral to everyday life amid the pandemic. A year of living virtually has reshaped what people expect from the real world.

While e-commerce has created new ways for brands and retailers to reach customers, it has also shifted consumers' mindsets. Online shoppers not only source products globally but can even try them on virtually. As the world reopens, retailers are exploring innovative ways to appeal to tech-savvy consumers.




With international outbound travel still on pause, leading global skincare brand SK-II debuted its first "social retail" pop-up store on May 1, 2021 at the Haitang Bay Duty Free Shopping Center in Hainan, China. Inspired by the six-part animated anthology 'VS' Series by SK-II STUDIO, this latest innovation is part of the SK-II's ongoing journey to transform and elevate human-centric retail experiences for consumers to interact with the brand and its products in safe, engaging, and meaningful ways.

Today, the modern shopping experience can begin and end without ever setting foot in a physical store. Three-quarters of shoppers interact with a brand or product in multiple ways before they even consider buying anything. From websites to apps and social media, smart retailers are embracing strategies that seamlessly blend online and offline shopping to keep consumers engaged, no matter where they are.

SK-II is leveraging digital technology to create engaging customer journeys offering immersive shopping experiences by combining retail innovations with compelling storytelling to inspire meaningful change in society.

Besides embracing technological advancements, SK-II is responding to changing shopping preferences. Consumers are increasingly choosing products and brands they relate to, and feel intimidated by in-store experiences that make them feel pressured to buy– and the brand is addressing that.
We've gone through an unprecedented year of change. There is so much more on consumers' minds than just skin and beauty. It is no longer about selling products, creating ads, and driving promotions, but about engagement and meaningful interactions with the brand.

Sandeep Seth, CEO, Global SK-II
Contactless Social Retail 
SK-II's "social retail" pop-up store combines augmented reality and gamified experiences with #CHANGEDESTINY, its stated brand purpose of creating positive change by inspiring women to overcome social pressures and take their destiny into their own hands.

Visitors can interact with the pop-up store using a WeChat mini program on their mobile phones and immerse in the cinematic universe of SK-II STUDIO's 'VS' Series while waiting in line to pay. Aside from watching the films, they can also engage with Augmented Reality (AR) enhanced animations of swimmer Liu Xiang, and join her in defeating her inner demon, or "kaiju" in Japanese.

Inside the pop-up store, visitors can access personalized contactless skincare analysis and product recommendations using the Mini Magic Scan, SK-II's AI-enabled skin analysis tool in a mere three minutes.

SK-II says such innovative "phygital" experiences give offline retail consumers options to browse, shop, and learn about their skin at their own pace and in a safe and engaging way that is also meaningful for them.

Ultimately, it is not tech, innovation or consultation for the sake of it, but to help us build the ultimate consumer experience and two-way communication with our consumers on the platforms they are on with the new content and retail experience formats that they consume and enjoy in these times.

Sandeep Seth, CEO, Global SK-II
For consumers outside of China, SK-II has also unveiled its first-ever virtual city – SK-II CITY – to bring Tokyo and the 'VS' Series to the world.
Creating Phygital Experiences 
SK-II has been digitally transforming beauty retail experiences since 2018 with the launch of its Future X Smart Store in Tokyo, followed by Shanghai and Singapore. The next year, SK-II unveiled YUMI, an AI-powered digital brand ambassador that interacts just as a human would, offering beauty advice and helping consumers understand their skin better.

In May 2020, as part of efforts to revive travel retail, SK-II partnered with China Duty-Free Group to create an ultimate contactless yet interactive shopping experience with the SK-II Skincare Training Camp.

By combining state-of-the-art facial recognition and AI-augmented skin diagnostics, SK-II's retail innovations create a "phygital" environment for visitors to seamlessly explore immersive and personalized mixed-media physical experiences. With the latest SK-II "social retail" pop-up store, the skincare brand is pushing the envelope even further with AR and gamification to bring contactless "phygital" experiences to the next level.

The SK-II "social retail" pop-up store and virtual SK-II CITY mark a new milestone in the brand's ongoing foray in transforming beauty and skincare retail experiences.
Engagement in the beauty and skincare category has generally been tactile in nature – what you can see, touch, feel. In these times of the pandemic, we want to provide our consumers contactless, gamified experiences where they can gain inspiration and learn about their skin in a safe yet engaging way.

Sandeep Seth, CEO, Global SK-II
The SK-II "social retail" pop-up store will be open to visitors in Hainan through the month of May. To learn more about SK-II and immerse in the cinematic universe of the latest 'VS' Series by SK-II STUDIO, visit the virtual SK-II CITY here.


Photo credits of the SK-II "social retail" pop-up store to AX Studio.
Read more