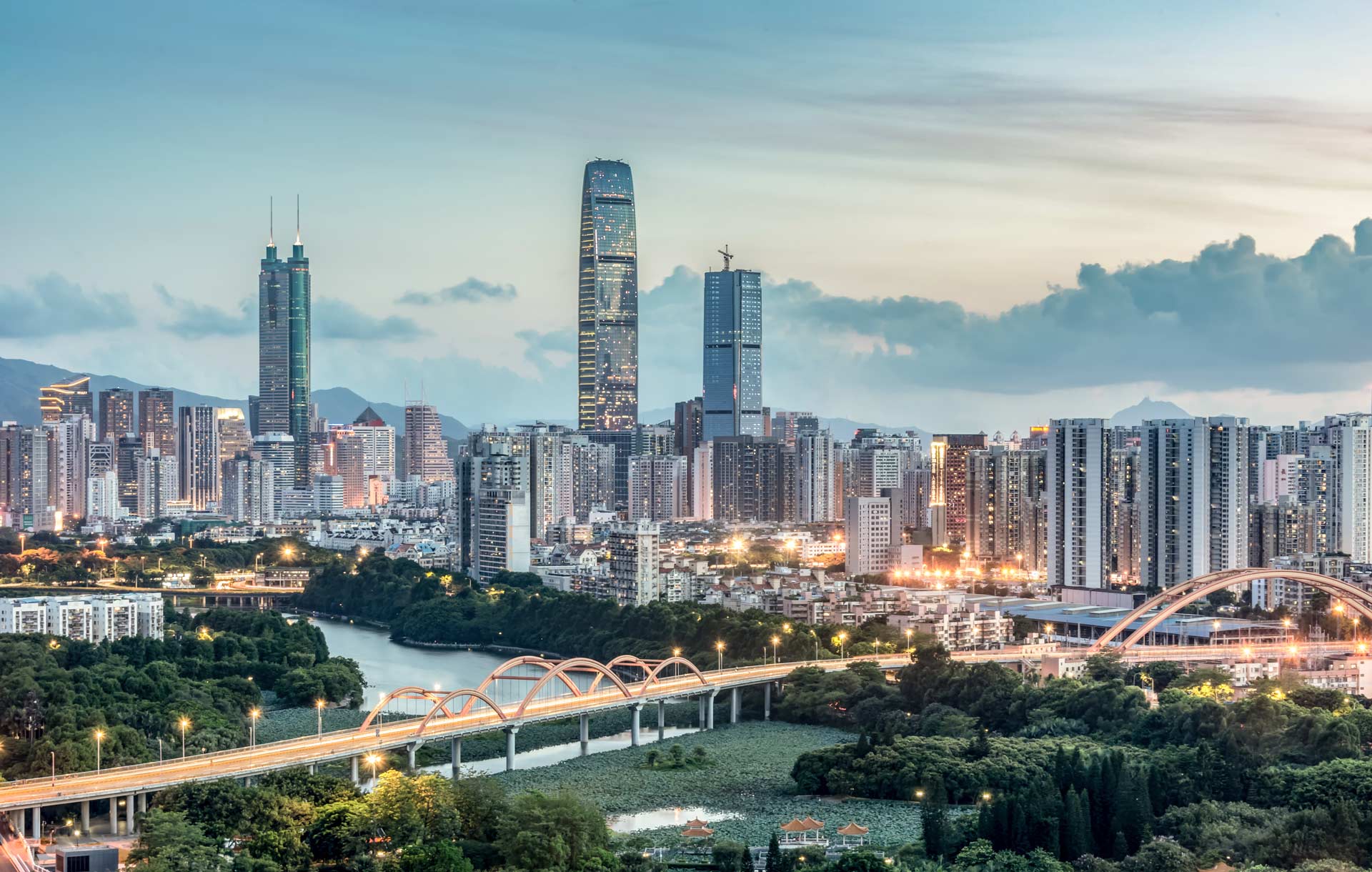 A Sustainable Path to Prosperity
Dubbed China's Silicon Valley, the city is on a green quest to be a hub for
environmental innovations.
---

In 1980, Shenzhen was on the cusp of change. From its humble fishing village status, the city was set to transform its economy. It was earmarked as China's first special economic zone.
As successes go, rapid economic development has led to not just big improvements in living conditions but has also impacted the environment. To respond to this, for its 13th Five-Year Plan, Shenzhen put themselves to the challenge with three goals: reduce carbon emissions; maintain air quality; and still see economic prosperity. What could they do to become China's most sustainable city, worthy as an example to the rest of the country?
Giving Back to Mother River
Shenzhen has committed to building new infrastructure designed to accommodate upcoming industrial hubs, restore local ecologies, and support low carbon lifestyles. For the city, it was no longer a choice between environment or economic growth. In their belief, technology and innovation could mutually empower both ecological and financial development.
One of Shenzhen's landmark projects is the regeneration of the Dasha River Ecological Corridor located in the city's southern Nanshan district. Once deserted, the 8.5-mile-long greenway follows the pristine Dasha River, along which plants grow and flowers blossom as runners, cyclists, and paddlers go by. Exotic birds land on the corridor, a never before seen occurrence.

Global infrastructure firm, AECOM, was brought in to transform the Dasha River. "The choice of vegetation was carefully selected, and it makes a big difference," says Stone Shen, Vice-President, Buildings + Places in AECOM China. "The greenery along the Dasha River is non-invasive to the native species and are capable of filtering out pollutants from rainwater and city wastewater. This creates a new habitat for wildlife."

The rejuvenated riverbed, forest, and wetland make up about 100 hectares of the new riverside park in the heart of southern Shenzhen. The river runs through the university district, overlooks the high-tech industrial development zone, and exits into the seaside bay. With so many creative institutions in its proximity, this green belt is set to nourish one of the most innovative and dynamic hubs in the bigger Guangdong-Hong Kong-Macao Greater Bay Area.
Shenzhen is one of the cities in China with multiple parks and is dubbed "The City of a Thousand Parks". In light of the COVID-19 global pandemic, the importance of having outdoor green spaces in cities is more apparent than ever. They allow people to exercise, be in nature, and have social interactions while keeping safely distant. According to AECOM, the Dasha River Ecological Corridor has attracted about 40,000 people daily.

The Dasha River Ecological Corridor is a star project among Shenzhen's many environmental improvement schemes in recent years. In September 2020, it won the ULI Asia Pacific Award of Excellence. Before the makeover, the Dasha River was, in Shen's words a "gray infrastructure." It only provided flood control for the seaside city. The transformation added color, infused nature into the city, and made the waterway a green infrastructure.
Greener, Smarter
Shenzhen's ecological changes are typical for cities that have gone through rapid industrial developments. In the 40 years since it became a special economic zone, Shenzhen's population grew 42-fold and its GDP grew 14 times of what it was in 1980, all of which placed extraordinary burden on the environment.

Water pollution was once the city's gravest problem. Since 2016, Shenzhen has built close to 4,000 miles of sewage networks using rainwater diversion technology. In 2019, Shenzhen became the first city in China to restore its wild waterways.

Smoggy days also used to trouble Shenzhen residents. It took the government ten years to address air pollution. Environmental expert Ma Jun has been following China's environmental progress for decades. "One of the most outstanding things about Shenzhen is that it is the only top-tier Chinese city that can meet the national air quality standards," says the founder of the Institute of Public & Environmental Affairs. In the first half of 2020, Shenzhen's air quality was rated as either excellent or good on 99% of the days. Ma Jun noted that while its coastal position helps diffuse pollution, Shenzhen's government policies and regulations are the main reasons behind the city's blue sky and clean air.

Between 2004 to 2014, the Shenzhen government worked on transitioning the city's economic model. Green manufacturers replaced companies and manufacturers that do not meet environmental standards, and firms that focused on technological innovation were given support. In 2013, tech-focused industries became Shenzhen's main economic drivers. In 2014, Shenzhen officially became one of the cities with the best air quality in China.

As China addresses the threat of climate change, reducing carbon emissions has become a focus for Shenzhen. Since 2010, the city's carbon intensity in relation to GDP has fallen by more than 25%, thanks largely to technology. To meet the government's standards, manufacturers needed to innovate. Companies that were able to develop technologies to lower their carbon emissions thrived under the stiffened requirements. By implementing policies that reward low-emitters, Shenzhen is able to consistently nurture new designs and technologies, which in turn feed its environmental efforts.
Ma Jun believes Shenzhen's greatest advantage will come from its robust IT industry. He sees potential for Shenzhen to use next-generation technologies such as big data, cloud computing, 5G, Internet of Things, and blockchain to power its ecological efforts.
A Sustainable Future
A greener Shenzhen has not gone unnoticed by the world. In a UBS report, Michael Baldinger, Head of Sustainable and Impact Investing, noted that "Shenzhen is taking the lead as a testing ground for a raft of climate-friendly, sustainable development policies that will be rolled out more widely across China."
In its bid to reduce pollution and carbon emission, Shenzhen has been pushing for electric vehicles (EV) and introduced a pilot green vehicle program. It is also the first city in the world to have all its buses run on batteries, and its taxis and ride-hail vehicles will likely follow suit.

One of the biggest success stories of Shenzhen's push for EV has been the emergence of BYD Auto, the world's second-largest electric vehicle manufacturer. Founded in Shenzhen in 1995, BYD sells as many as 30,000 EVs or plug-ins a month.
In light of the high usage of EV in both private and public transportation, Shenzhen's infrastructure had to be responsive – not just for the present, but as a necessity for the city's future. There are over 80,000 charging stations across the city, and numerous companies in Shenzhen are in development for technologies to further speed up charging.

Market-based environmental management is also being pioneered in Shenzhen. In 2013, Shenzhen launched China's first carbon emissions trading market. In 2020, the city implemented a set of green finance regulations, a first in China and the second instance of such an initiative globally, following the European Union's sustainable finance agenda.
Shenzhen is China's innovation engine but at the heart of its continuous pursuit of excellence is its focus on building a sustainable human habitat.

The roadmap includes further efforts in pursuing global indicators for sustainable development: following the World Bank's guidance to be a Low Carbon City; further investment to make Shenzhen a "sponge city"; and achieve "zero waste" capability as defined by the Zero Waste International Alliance.
Today's Shenzhen allows one to find themselves never more than a five-minute walk from a green space in the city. It's a standard the city hopes will be worth emulating by other provinces in China, and perhaps the world.

Stone Shen believes this feat can be attributed to Shenzhen government's modern approach. "The Shenzhen government knows how to work with the private sector," says Shen, who holds a Master's degree in landscape architecture and urban planning from the University of Pennsylvania. "The municipality provides the financing, then leaves the execution and management to professional companies."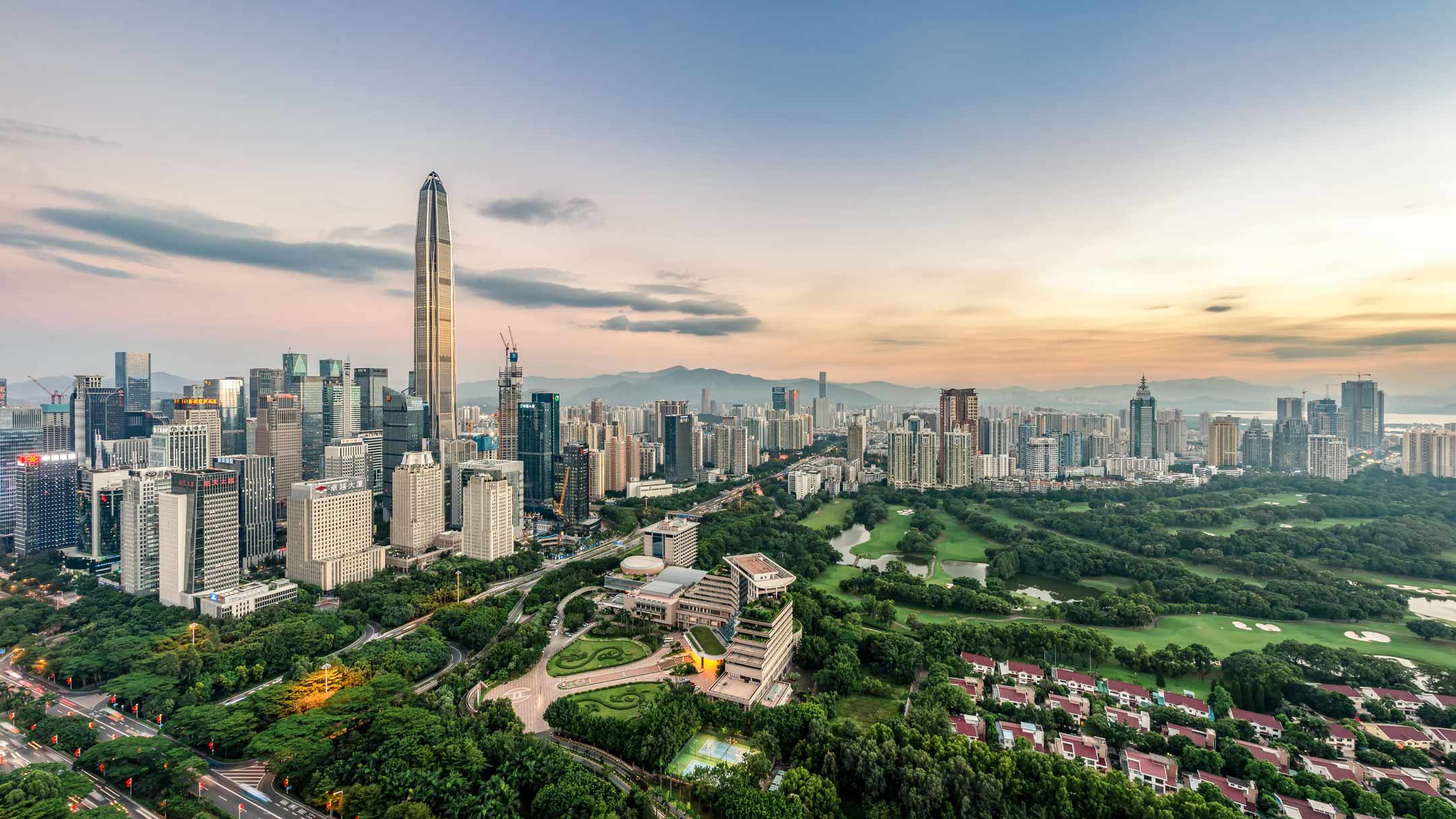 Steady path to sustainable growth
Shenzhen celebrates the 40th anniversary of the establishment of the Shenzhen Special Economic Zone. A new blueprint has been unveiled for building the city into a trade, finance, and technology hub.