Empowering Employees from Day One
How VMware helps companies like Zoom create success through better employee experiences.
It's your first day on the new job. You've been looking forward to it and feeling good about your decision to join the company. You know they're serious when they say they value their employees; once you signed your offer letter, they provided you with secure access to the company directory, intranet, and benefits information. And you were able to select equipment to be delivered on your first day.
When you get to the office, your new laptop is waiting for you, with all your apps and email set up. You click one link on your phone, and a minute later all your mobile apps are set up too. When you enter the conference room for your first team meeting, the conferencing system recognizes you. Without hooking up to a projector, you instantly share a presentation to the screen with colleagues both in the room and attending remotely through Zoom's video communications platform.
This isn't a future scenario. It's a reality made possible in part by VMware. VMware offers a digital workspace platform—VMware Workspace ONE®—that helps organizations create engaging experiences for their employees, from the moment they sign their offer letter through the day they leave the company.
Using the Digital Workspace to Streamline Onboarding and Boost Engagement
Digital workspaces reflect a change in the way end-user services are delivered by IT. By taking advantage of today's cloud-based management technologies, digital workspace solutions enable IT to simply and securely deliver the apps and data employees need, with access on any device, scaling across platforms, locations, and device ownership models.
Launched in 2016, Workspace ONE is a digital workspace solution that integrates access control, application management, and unified endpoint management (UEM). It provides an app-store-like experience for end users, giving them easy access to apps and workplace services at a tap.
Digital concierge services available through Workspace ONE help to further personalize and simplify employee experiences. Imagine opening a help desk ticket or enrolling in company benefits using voice or text. You'd be able to do so using the recently introduced digital concierge service Workspace ONE Intelligent Hub Virtual Assistant, an artificial intelligence (AI) digital assistant powered by IBM Watson Assistant.
Moreover, Workspace ONE considers the employee's physical experiences. The new Workspace ONE Intelligent Hub Passport feature will enable employees to use their personal or company-owned mobile device to gain entry to buildings instead of using a badge.
Digital workspace solutions are critical to helping businesses attract and keep talented employees—all of whom have high expectations, being tech-savvy consumers themselves. Employees also want flexibility and choice in the technology they use every day. No company knows this better than Zoom Video Communications, a Silicon Valley juggernaut and a place where its employees are extremely loyal—for good reason.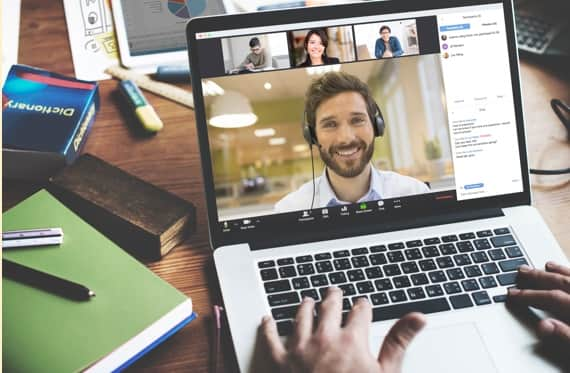 Zoom and Workspace ONE: A Better Experience for Both IT and End Users
Zoom made headlines last year with its "unicorn"-level IPO, when the video-first unified communications company was valued at US$20 billion. But what isn't as widely known is how Zoom uses IT as to support the company's phenomenal growth.
From the beginning, the IT team had two main goals: Day One productivity and enterprise-grade security. Day One productivity meant rapidly provisioning new devices and apps so employees could be effective on their very first day. Protecting Zoom's valuable intellectual property required that security and compliance policies for all apps and data be implemented consistently and without inconveniencing end users. Zoom chose VMware Workspace ONE to make this happen.
Zoom uses Workspace ONE to streamline device management: Its IT team is able to manage all virtual and physical workspaces from the Workspace ONE UEM console. Leveraging the console for day-to-day desktop operations—such as installing new patches and policies, deploying applications, and more—minimizes the need to create new desktop images for smaller updates, reducing re-imaging frequency and associated time and cost. Workspace ONE also makes short work of initial provisioning, enabling Zoom to cut the process for each new laptop (or device) from hours to minutes.
VMware is helping Zoom reimagine device security as well. With Workspace ONE, Zoom's IT team can continuously track device state, user details, and authentication protocol to determine user and device risk. They can configure their own security policies and monitor devices for malware, malicious apps, and compromised operating systems (such as jailbroken devices). And they can respond to threats quickly by remotely locking a device, wiping it clean, or changing access control. All of this can help prevent fallout from a corporate hack or ransomware incident.
Privacy is another big concern for both employees and organizations. Companies can establish more trust with employees through transparent privacy communications built into Workspace ONE. Workspace ONE Privacy Guard is designed to provide employees with transparency into how their apps are being managed by IT. For instance, employees have visibility into the data that is being collected, as well as device permissions that are being requested by an application on both personal (BYO) or corporate devices. Employees will be able to receive notifications from Privacy Guard that indicate when IT has changed any app or device management policies.
"For too long, enterprise security and digital employee experience have been pitted against one another," says Shankar Iyer, senior vice president and general manager of End-User Computing at VMware. "Workspace ONE enables an organization to provide a productive and engaging employee experience while simultaneously embracing a Zero Trust security model."
The Happy Employee Factor
Such advances cannot be understated. It's generally accepted that employees are far more likely to recommend their company if it provides a great digital experience.
Unsurprisingly, then, employee-experience projects will become a higher priority over the next year for the majority (56 percent) of respondents, according to a recent VMware study conducted in partnership with independent research firm Vanson Bourne. These projects will benefit companies that want to attract new talent as well as retain existing employees. Seventy-three percent of survey respondents agree that the flexibility of the tools they might use on the job would influence their decision to apply for or accept a position.
But cutting complexity and headaches from the digital employee experience is still an uphill battle for many IT organizations. "When we talk to customers around the world, we hear about 'silos of complexity' in their digital workspaces that prevent them from jumping in on Day One, using the apps and devices they want, and completing work remotely as they would from the office," says Shawn Bass, vice president and CTO of End-User Computing at VMware.
That's where digital workspace solutions such as Workspace ONE come in. They facilitate productivity through seamless access to resources—whenever, wherever, and however an employee wants. And a digital workspace strategy that puts employees first and embraces new apps, devices, and workstyles empowers people to do their best work.
A look at Zoom's flexible workplace
Workplace flexibility is a top priority for employees. Learn how Zoom enables its employees to work anywhere with any device.