Better Care in the Air
How Angel MedFlight achieves lofty new possibilities with cloud technology.
Apps power many of our daily routines: connecting with friends and family, collaborating with colleagues, learning at school, and more. The companies behind these apps know their businesses depend on delivering exceptional customer or employee experiences.
For one company, creating a reliable, next-level app experience is literally a life-or-death proposition.
When Every Minute Counts
Angel MedFlight is an Arizona-based company that operates "flying intensive care units." The company transports patients by air from their healthcare provider to their next level of care, across the United States and around the world. A leader in the air ambulance industry, Angel MedFlight prioritizes speed, efficiency, and innovation to get more patients in the air faster while offering them the best care possible in flight. That mission is supported by a modern, highly secure IT infrastructure that helps the organization orchestrate operations between Angel MedFlight itself, healthcare providers, and patients.
For example, the company created its own medical-record charting application because no existing software package met the unique needs of a flying intensive care unit. Paul Green, Angel MedFlight's chief development officer, says the company "took it upon ourselves to completely custom design and build our own charting application." This tablet-based application integrates cloud-based storage and CRM software.
Data from the application transmits to the company's data center from the air in real time. This helps support staff and clinicians coordinate patient care on the planes and with other providers before, during, and after a bedside-to-bedside patient transfer. The company must ensure a smooth transfer of patient and data to the next provider, so an extensible, secure digital infrastructure is critical.
Time Spent Innovating Instead of Maintaining
Angel MedFlight would not have been able to create such an environment if its IT team had to spend time managing and maintaining a traditional data center infrastructure. Green explains that the focus must be on maintaining a medical environment that's "as intuitive as possible so our crews [can] focus on the patient and not focus on medically charting the patient."
Purnima Padmanabhan, vice president of products at VMware's Cloud Management Business Unit, says that for companies like Angel MedFlight, time spent on traditional IT infrastructure takes away from supporting the "fast-fail" and "learn-often" culture of digital-first organizations. "All software needs to run on a cloud because if it isn't, you're spending time doing everything else but creating software," she says. "You're spending time figuring out how to set up your machines, how to do virtualization, how to do automation, how to scale in and out, how to make it secure, scalable, and reliable."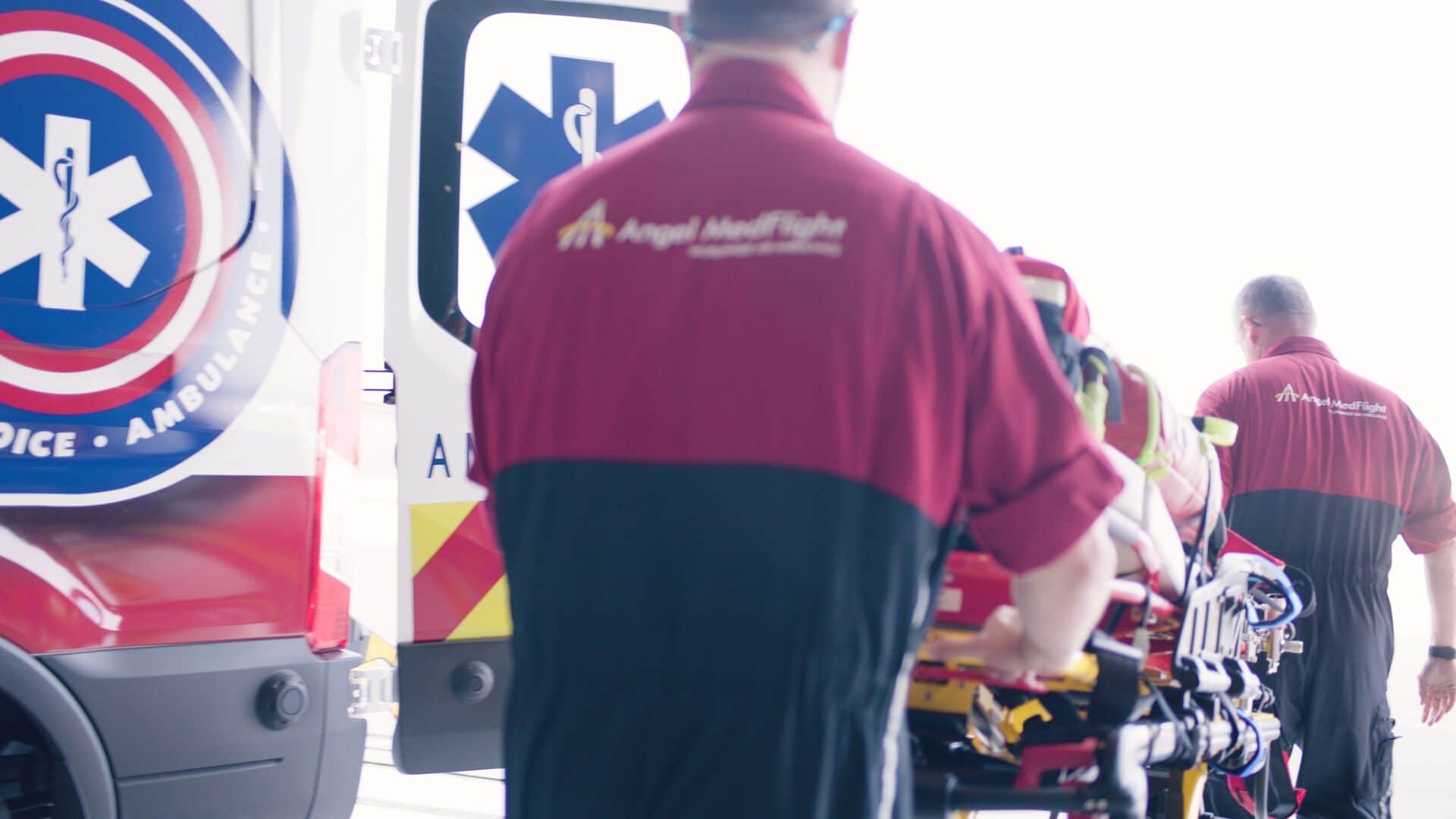 Achieving Lift with Fast-Moving Clouds
For Angel MedFlight, the need for speed includes relying on a multi-cloud infrastructure that allows the company to quickly develop and deliver its applications. They are proof that using multiple clouds can accelerate business innovation and the creation of the new, valuable service offerings that differentiate companies from their competition.
In fact, many innovative companies are pushing to disrupt themselves. According to the Harvey Nash/KPMG CIO Survey 2019 of 3,645 global tech execs, "44 percent of organizations expect to change their product/service offering or business model in the next three years." Angel MedFlight is continuously innovating in a highly regulated and controlled field—no easy feat. But the payoff is better care and better experiences for both patients and employees. And with VMware cloud solutions, the sky is no longer the limit for Angel MedFlight.
The most important flight of their lives
Every transport Angel MedFlight makes is critical to the survival of the patient on board. Cutting-edge cloud technology powers the air ambulance company's vital service.