Happy Aquarius season! Independent, friendly Aquarians are known for their inventiveness, free-spiritedness and inquisitive outlook on life. Creative, kind-hearted, wonderfully unique Aquarians are a joy to shop for.
"Aquarius is a sign that gains clarity by looking up things from 1,000,000 miles away," Lisa Stardust, an astrologer and the author of "Saturn Return Survival Guide" and The Astrology Deck, says, "which is why it's important for them to receive items that help them come to their own clarity and understanding." A good book, meditation tools or a beautiful journal will appeal to the Aquarian interest in self-exploration.
With birthdays from Jan. 20 to Feb. 18, the sign of Aquarius rules technology, space, astrology and the human collective. They'll appreciate thoughtful, surprising gifts, and will especially love presents that support a small or local business or that give back in some way.
The Astrology Deck: Your Guide to the Meanings and Myths of the Cosmos ($17.06; amazon.com)
"Aquarius is the zodiac sign that represents astrology," Stardust tells us, so any kind of astrology-related gift is a good bet. "They'll enjoy receiving a present that helps them grow their interests in the field more," Stardust says, which makes her guided astrology deck a perfect idea for the budding cartomantist in your life.
Mejuri ​​Zodiac Necklace Aquarius ($90; mejuri.com)
Wear your Aquarius status with pride with this gold vermeil necklace with a pendant that features Aquarius's constellation studded with white sapphires.
Bearaby Cotton Napper (starting at $199; bearaby.com)
Oftentimes, Aquariuses aren't the best at expressing their emotions. They hide their feelings and cherish their alone time, so a weighted blanket like this one can feel like a comforting hug if they aren't ready to open up to others yet. We rated this Bearaby Cotton Napper as one our favorite weighted blankets because it's stylish and highly rated by purchasers. We've tested it and love that it doesn't get overly hot like other options on the market.
Blueland Clean Essentials Kit ($39; blueland.com)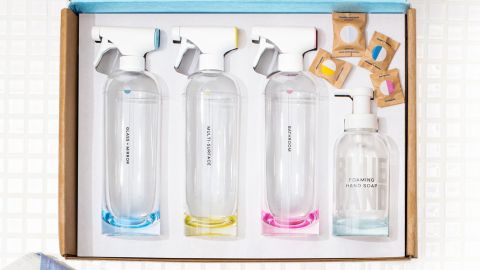 If your Aquarius stresses about the future of the planet (ideally, shouldn't we all, though?), introduce them to Blueland — the eco-friendly cleaning brand that's on a mission to eliminate single-use plastics from your home. The Clean Essentials Kit, featuring three reusable bottles, one reusable hand soap bottle and tablets for the cleaning solution, is a brilliant way to help your loved one use less plastic.
Worldincensestore Amethyst Cluster (starting at $5.40; etsy.com)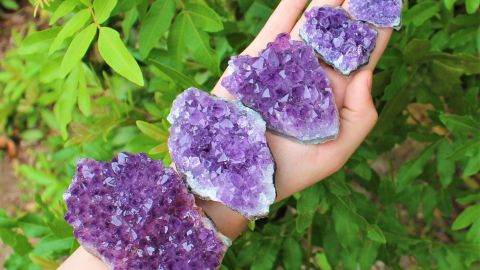 Crystals, especially ones associated with a birthday boy or girl's zodiac sign, are a nice gift — and this is particularly true of Aquarians. "They also love crystals," Stardust says, "due to their unique sensibilities, especially amethyst, which is the birthstone of the month February, because it's healing and protective."
MasterClass Membership (starting at $180 per year; masterclass.com)
This air sign is a lifelong learner. Even if they don't want to be tied to a work or school schedule, new information is super exciting to them. That's why a MasterClass subscription would make an excellent gift. From French pastry fundamentals to space exploration, your Aqua won't know where to begin.
Crosley Voyager Bluetooth Portable Turntable ($79.95, originally $99.95; amazon.com)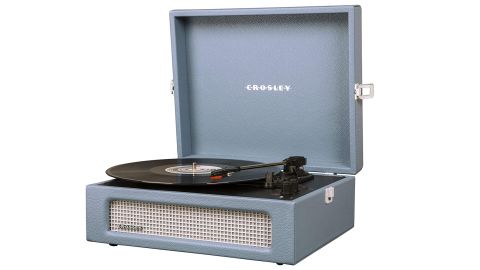 "Aquariuans prefer gifts that allow them to see the world from a different perspective," Stardust says. She picked out this vintage-inspired turntable, which will allow the Aquarian to tune out the temporal and let their mind wander.
Fujifilm Instax Mini 11 Instant Camera ($69; amazon.com)
Along the same lines, Stardust recommends giving the Aquarius in your life a camera. "A camera or a record player is ideal for them," she says, "because it allows them to connect with the world in their own personalized way that speaks to them only."
Dazey LA Positivity Please Mug ($12; anthropologie.com)
Mugs are a staple of gift giving because they're endlessly useful and endlessly customizable. Stardust picked out this Dazey LA mug because of its upbeat message and groovy design, which will appeal to the Aquarian interest in the collective.
Emily Klintworth Written in the Stars: Birth Chart Class ($60; uncommongoods.com)
The curious Aquarius will love this hourlong class, in which astrologer Emily Klintworth shows you how to chart your own astrological forecast. By the end of the session, you'll have a detailed astrological guide to help you navigate the coming year.
ALaModeDecorStudio Retro Bedside Carafe (starting at $26.13, originally starting at $29.03; etsy.com)
Each zodiac sign is associated with a symbol, and the symbol of Aquarius is the water bearer ("Aquarius" is Latin for "water carrier" or "cup bearer"). "As the water-bearer of the zodiac," Stardust says, "they'll appreciate being given a mug or cup to keep their glass full of positivity at all times." This carafe and cup set is perfect for use on a bedside table, because it's equal parts practical and art.
Affirmicious Aquarius Affirmation Cards ($45; etsy.com)
As a Leo, I am personally very drawn to Aquarians (Leo and Aquarius are sister signs) and so I asked some of my favorite Aquarians what they might like to receive as a gift. "I do love anything witchy/spooky/spiritual as a gift," one told me, "even if I never use the stuff I feel very seen. I love any gift of some special nice kooky thing I'd never justify buying myself but totally want."
"Linda Goodman's Love Signs: A New Approach to the Human Heart" by Linda Goodman ($16.79; amazon.com)
Books are a smart gift idea for almost anyone, but this is especially true of the curious Aquarius. Another Aquarius friend quipped that, "Linda Goodman's Love Signs is my fun bible," which makes sense, since Aquarius is the sign that rules astrology.
Brendan Lorber Fantasy Mapmaking: Chart a Life Story ($85; uncommongoods.com)
Classes and experiential gifts in general are a great idea for the Aquarius in your life. If an astrology class isn't their vibe, this fantasy mapmaking course might fit the bill.
Urban Stems The Aquarius ($80; urbanstems.com)
Urban Stems designed this birthday arrangement with bold hot pink, cream and purple accents. The mixed bouquet includes roses, aster and alstroemeria and you can add Sugarfina Champagne Bears to sweeten the pot.
Vans Pride Era Sneaker ($42.21, originally $64.95; nordstrom.com)
As a fixed air sign, Aquarians "are known for independent and unique thought, as those who think far outside of the box and somehow remain simultaneously of service to their community and also maintain their own opinions and beliefs," says Stardust. Clothes and accessories that bear a social message while also looking cool are a great way to play to that trait.
Brightworld Moon Lamp ($20.39, originally $24.99; amazon.com)
A decorative moon lamp will appeal to the Aquarian love of space, and of the planets. This lamp has 16 color settings and 4 to 12 hours of run time, and comes with a decorative display stand.
MyGoddessProvisions Moon Phase Singing Bowl ($44; etsy.com)
Because of their cerebral side, Stardust says that Aquarians will enjoy gifts "that help them come to their own clarity and understanding." Meditation tools, like this singing bowl, can help to do just that.
Juice Beauty Revitalizing Acacia + Rose Powder Mask ($39; ulta.com)
This customizable powder mask has a DIY feel to it that allows quirky Aquarius to play mad scientist with their skincare. Mix the rose petal, aloe and acacia powder with water to create the exact mask consistency you like.
YellowPaperHouse Junque Journal ($31; etsy.com)
"Their unique ability to create allows Aquarians to be the innovators of the zodiac, as they are always one step ahead of the latest trends," Stardust says. A great journal, like this multi-colored Junque Journal that has lined, dotted and blank spaces, gives them space to jot down all their ideas and dreams.