If you associate shapewear with dread, you're not alone. Three-time Grammy winner Lizzo feels you. After spending much of her life squeezing into uncomfortable, restrictive pieces, the artist is now leading the charge to change the shapewear game with the launch of Yitty, a size-inclusive line of 100 items that just debuted.
"I was constantly being told through TV and magazines that my body wasn't good enough," she explained in a press release. "And, in order to be considered 'acceptable' I had to inflict some sort of pain upon it to fit into an archetype of beauty. Because of this, I've been wearing shapewear for a long time, maybe since I was in fifth or sixth grade."
Created in partnership with Fabletics, Yitty is Lizzo's brainchild — a deeply personal business that the star has been working on for more than three years. Encompassing everything from thong bodysuits and high-waisted undies to bralettes, leggings and crop tops, the expansive collection is divided into three categories: Nearly Naked (lightweight, seamless, all-around compression, second-skin feel); Mesh Me (breathable, semi-sheer, smoothing, light compression) and Major Label (bold colors, fun designs, super-soft fabrics).
Offering one of the widest size ranges on the market — XS to 6X — Yitty's pieces can be worn as outer or inner wear and, according to Lizzo, "should make you feel like that bitch when you're putting the product on." You won't even need a DNA test to figure it out!
Joking aside, the artist and activist is aiming to change the conversation about body image and positivity via Yitty, which, fun fact, was Lizzo's childhood nickname. "This is a love letter to my big grrrls, and a welcome letter to Every Body," Lizzo wrote on Instagram recently. "This is *not* an invitation to change who you are… this is an opportunity to BE who you are on your terms. I don't know about y'all— but I'm sick of people telling me how I'm supposed to look and feel about my body. I'm tired of discomfort being synonymous with sexy. If it's uncomfortable TAKE IT OFF. And if it makes you feel good PUT IT ON. @YITTY isn't just shapewear, it's your chance to reclaim your body and redefine your beauty standard."
Looking to enhance every body's natural form in a way that is comfortable, flattering and, if you're up for it, flashy, the Yitty line can provide a light or medium compression to all the areas that need a little loving (booty, tummy, thighs and, in Lizzo's words, "tiddies"). We love that the bottoms — from leggings and shorts to bodysuits and briefs — can be worn without underwear, thanks to the antimicrobial liner that will keep us all feeling good (and fresh) as hell. And that some 65% of the collection's fabrics are made from recycled fibers that are super soft to boot.
Because Yitty is under the Fabletics umbrella, pricing works similarly — each product has two prices: VIP and guest. If you opt to join the VIP Membership, which costs $49.95 per month, you'll get drastically reduced product prices in addition to a bunch of other perks like access to the Fabletics Fit App, free shipping over $49, free returns, access to exclusive style drops and more. (Note: You can skip any month or cancel your membership at any time.) Curious just how drastic those savings are? One of Lizzo's favorite pieces, the Major Label Smoothing Cross-Front Bralette, retails for $49.95 for guests and $17.95 for VIPs.
Having tried a few pieces from Nearly Naked, we can say that if you're looking for true compression, this collection gets the job done. The Shaping Thong Bodysuit, for example, sucks you in, while also smoothing and lifting — even with a 34C chest size, we were good to go braless. The Shaping High Waist Short was also a favorite, thanks to the extra-wide waistband that was comfy (no pinching!) and the silicone gripper that ensured it stayed put (no rolling!). And the fabrics are thicker than we expected, as well as super soft to touch. If we had to highlight a downside, it would be sizing, as we found our size according to Yitty's measurements was a bit tight IRL. Read: Size up in your unsure where you might land.
More to know: Yitty's packaging is made with 100% recycled materials, and in case you're concerned, the pieces are all "twerk-proof" too. All in all, if you're looking for ultra-comfy shapewear pieces oozing with serious swagger, Yitty is going to deliver. Check out our favorites below and the entire collection here.
$23.38 VIP, $64.95 Guest at Yitty
Available in six hues ranging from neutrals to a bright red and yellow, this is the must-have bodysuit we all need this summer. Featuring all-around compression, the moisture-wicking bodysuit forms and lifts your natural shape without pinching or squishing. Zoned panels around the chest help to boost what you've got as well.
$14.38 VIP, $39.95 Guest at Yitty
Boasting medium compression, the high-waist brief's all-star details include the no-roll waistband, the silicone grippers that keep everything in place and the fact that they're no-show — wear 'em under anything from white jeans to leggings, and no one will be the wiser.
$23.38 VIP, $64.95 Guest at Yitty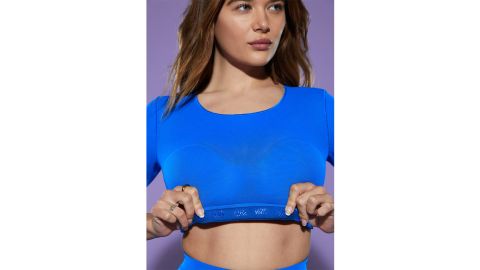 Trust us, this is a top you're going to want to show off. Boasting a double-layered panel chock-full of bust support, this cutie crop can be worn bra-free all summer long. We love the sheer fabric's breathability and the fun colors like Bright Ass Blue and Neon Pussy Pink.
$26.98 VIP, $74.95 Guest at Yitty
Sheer pants are having a moment, and these leggings — with built-in briefs, no less! — prove the trend isn't ending anytime soon. The hardest part is choosing between the solid hues and that bold butterfly print.
$17.95 VIP, $49.95 Guest at Yitty
A signature piece from the Yitty collection, this cross bralette is perfect for donning solo or peeking out from underneath a top layer. Our favorite detail? The mesh back panel that looks as cool as it feels.
$14.38 VIP, $39.95 Guest at Yitty
A mesh brief?! Yes, please. French cut in design, these sexy undies feature full coverage in the front and a breathable, open-air mesh in the back. Done and done.