This fall, Apple will release several software updates for its iPhone, iPad, Mac, Apple Watch and Apple TV lineup. iOS 16 and iPadOS 16 bring several improvements to the company's phone and tablet lineup, while WatchOS 9 adds several features of its own to the Apple Watch.
For the Mac's part, macOS Ventura includes a new way to manage and work on your Mac, the ability to use your iPhone as a dedicated webcam and a long list of new features in apps like Messages, Mail and Safari.
For the past month, all of the software has only been available through Apple's Developer program. But starting July 11, anyone with a compatible Mac can sign up for the public beta to get an early preview of the new features and help Apple test the unreleased operating system.
I've been using macOS Ventura on a 13-inch M1 MacBook Pro for the past week, testing out new features and trying to discover everything Apple didn't announce. During that time, one thing has become clear to me: macOS Ventura is a sneakily meaningful upgrade.
How to try the macOS Ventura beta
You can now sign up for and install the first public beta of macOS Ventura through Apple's Beta Software Program. I don't recommend installing Ventura on a Mac that you rely on to get work done. It's a beta, after all, and bugs and app compatibility issues are all but guaranteed.
The new macOS Ventura will work on the following MacBooks and Mac desktops:
Using your iPhone as a webcam
Better late than never, right? After we all experienced the rush to find better webcams (or a webcam in general) during the initial work-from-home phase of the pandemic, it would have been so much easier if we could just use our iPhone as a webcam attached to our Mac. There are already ways to do that, but they often involve fumbling with external third-party apps. Fortunately, with macOS Ventura, you'll be able to effortlessly make your iPhone your main webcam with a new feature called Continuity Camera.
The Continuity name might sound familiar to longtime Mac users, and rightfully so. It's what allows your Mac, iPhone and iPad to share information, such as copying text on your iPhone and pasting it on your Mac, or answering a phone call on your iPad. In other words, Continuity makes it possible to use all of your Apple devices as one system.
And Continuity Camera is as easy to use as you'd hope. As long as your iPhone and Mac are using the same Apple ID and connected to the same Wi-Fi network, your iPhone (running iOS 16) will automatically show up as a camera option in any app that uses a webcam. That means you can use your iPhone as your webcam in Zoom, Google Meet, Webex or even FaceTime.
You don't have to plug your iPhone into your Mac or even a charger, but if you're going to be on a call for a while and want to preserve battery life, it's a good idea to connect it to power.
I was skeptical about how well Continuity Camera would work. I assumed the camera feed would be slightly delayed or at least suffer from occasional lag. However, after using it for a handful of calls, I haven't noticed any issues at all. It's been the same experience as using the MacBook Pro's built-in webcam, but with better picture quality.
Apple didn't just add the iPhone as an option for video calls and call it good, though. If you have an iPhone 11 or newer, you'll have the option to show yourself and a top-down view of whatever's in front of your Mac with Desk View. I'm not quite sure how Apple did it, but when Desk View is enabled during a call the additional video feed that's shown to others on your call truly does look like you have a second camera that's mounted above your desk. This is especially helpful for situations where you have to give a demonstration and move your camera or adding expensive equipment just isn't an option.
I've been using a preview sample of Belkin's MagSafe mount that puts my iPhone 13 Pro Max atop my MacBook Pro's screen, just as if it were a dedicated webcam. When it's all attached and connected, it looks just like the iPhone belongs above my Mac's screen as a dedicated webcam. It's pretty handy.
Stage Manager is a new way of working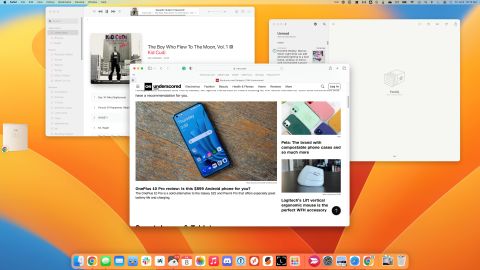 Stage Manager is a new feature making its debut on both the Mac and the iPad with iPadOS 16. When it's active, macOS handles apps and windows differently than we're accustomed to. Instead of having to manage countless apps and windows on top of your desktop, Stage Manager creates a "center stage" to show an app — or a group of apps — on your screen without any further distractions.
On the left side of the screen is where you'll see live thumbnail previews of apps you've recently used that you can quickly switch back to. You can drag and drop apps into a group (my MacBook Pro allows me to have seven apps open in one group) or even move them between displays if you use an external monitor.
You can turn Stage Manager on or off using a button that's located in the Mac's Control Center.
On the iPad, Stage Manager makes a ton of sense. It allows iPad Pro power users to get more out of their tablets by running multiple apps at the same time, complete with adjustable windows.
On the Mac, I'm warming up to it. I see the benefit of using one app at a time, or even grouping apps together for quick access, but the Mac could already do all of those things. You can already create additional desktops and group apps on each one, similar to what Stage Manager offers. Full-screen apps have also been an option for years, including adding a second app to use in a split-screen mode.
However, Stage Manager does a much better job at keeping each app group visible and easy to access. As someone who's worked on a Mac for years, I often forget that I have multiple desktops created with different apps open. And I can't tell you the last time I used an app in full-screen mode.
There's going to be a steep learning curve with Stage Manager, but the good news is that it's an optional feature you can enable or disable at any time with just a few clicks.
Mail, Photos and Safari join the update fun
Beyond a new way to interact with and manage apps on a Mac, using your iPhone as a webcam and what are sure to be popular updates to the Messages app for editing or deleting messages, Apple is also adding new features to several of the core Mac apps. For example, Mail is getting a bunch of Gmail-like features to help you triage your inbox. You can schedule when a message is sent, undo sending a message within 10 seconds of clicking on Send or set reminders for emails that you want to deal with another time (sorry, boss!).
The Photos app is getting a few handy features as well. There's a new duplicates section in the app that shows you duplicate photos and videos and gives you the option to merge or delete the extra copies, to help save space on your device and in the cloud. iCloud Shared Photo Library is also making its debut with iOS 16 and macOS Ventura. This is another Google-like feature that Apple is finally getting around to adding that allows you to create a shared photo album for family members that will automatically populate with photos that you and other members take. You can pick who should be in a photo that's automatically added to the album, and a start date of when the photos should be shared.
If you use an iPhone, there's even an option to have photos automatically added when you're traveling with your family members — handy for vacations or even at a concert.
Safari gets a share of the updates as well. You can create a group of open tabs and share them with your friends or a loved one. I can see this being helpful when planning a trip or researching a project for work. What I'm more intrigued about is the addition of Passkeys. Essentially, Passkeys will replace the need to create and remember a password when setting up an account for various websites and services. Instead, you'll use your fingerprint or Face ID to sign in to the account. Passkeys will sync across all of your Apple devices, and if you need to use a Windows or Android device, you can scan a QR code to transfer the key to that device.
Spotlight, the search tool built into macOS, is getting a boost with a new design and the ability to use quick look to preview files from Spotlight — and search results are improved by allowing you to take action or view more detailed search results.
Bottom line
The new macOS Ventura will be a free upgrade when it's officially released this fall. Even if you don't find Stage Manager appealing, it's a worthy upgrade for the updates to Messages and Photos, alone. The Shared iCloud Photo Library solves a lot of problems for families, and editing or deleting errant messages is something that every one of us will find useful. As is usually the case with major updates like this, I'd suggest waiting a day or two after it's released to make sure there aren't any major issues before you click that update button.