You hear the word almost every time you watch a weather forecast. The term "average" or "normal" is tossed around as frequently as your 7-day forecast. That's because it helps give context on how unusual the current cold spell or heat wave is for any given season.
As meteorologists, one of our favorite tools of the trade is to compare the daily conditions to past observations over a course of many years. These are what's called climate normals, and right now those normals are getting a vast refresh of sorts.
The Natonal Oceanic and Atmospheric Administration's National Centers for Environmental Information (NCEI) is currently compiling and reviewing 30 years of weather and climate data from across the US. This data will serve as the nation's official climate normals for the next 10 years.
Think of weather as what's happening outside today, whereas your climate is what you would expect in the middle of November. Scientists have agreed to use a 30-year average to define climate normals, allowing insight into these long-term variations such as temperature and rainfall.
"NOAA's climate normals provide a baseline to compare yesterday's weather and tomorrow's forecast to a standard for each location and time of year," says Mike Palecki, project manager for NOAA's 1991-2020 climate normals.
In May, NOAA will update its 30-year data set, which will then span from 1991 to 2020. The data is gathered from observations at nearly 10,000 weather stations across the US, operated by NOAA and the National Weather Service.
Click here to get your latest forecast from CNN
Why 30 years? Simple. Iit was the standard set by the World Meteorological Organization in 1935. That year, the agency instructed member nations to calculate climate normals using a 30-year period, which spanned from 1901 to 1930.
We consider the window of three decades of observations lengthy enough to offset any variations you would expect from one year to the next. However, with so many weather extremes in recent years, enhanced by human-caused climate change, NOAA is serving up a modified version of its climate normals beginning later this year.
For the first time ever, NOAA will include 15-year normals to better represent a climatology period closer to today.
"These new normals are a better baseline for today's climate, helping inform activities in many economic sectors," said Palecki. "Interestingly, this shift will result in there being fewer 'above normal' temperature days in most of the US at the start of this decade compared to recent years that used the previous normals cycle. Climate will continue to change in the US during this decade, however, so we will need to do this again in 2031."
Palecki notes that preliminary analysis of the climate normals for 1991-2020 suggest that temperatures were generally warmer in most regions and majority of seasons across the United States, but not for everyone.
Most notable was the North Central US, where temperatures were somewhat cooler than those based on 1981-2010, especially in the late winter and spring seasons.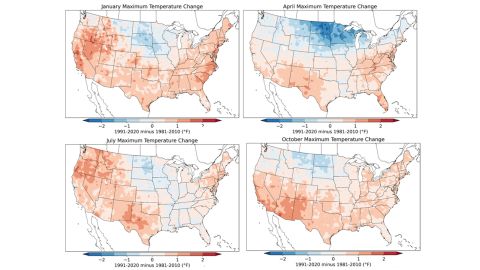 Precipitation normals also change for 1991-2020, with notable large increases in the Southeast and South Central US, and distinct season-dependent shifts were also observed in the West.
NOAA recommends an update each decade to climate normals, in part, to incorporate newer weather stations coming on line.
However, the agency acknowledges that more recent updates are needed to keep pace with conditions as climate changes over time. "This is why temperature and precipitation normals of means, totals and statistics often shift and change from one 30-year period to the next," says Palecki.
Although climate normals are a tremendous tool for forecasters, they offer a wide range of applications beyond just weather and climate comparisons.
Power companies use them to regulate energy load forecasting, farmers benefit from the data for crop selection and planting times, while construction companies use them for planning and building design. These benefits extend to countless other industries and sectors.
The new NOAA normals will be available to the public in May of this year and can be accessed on NCEI's web page.